Hardware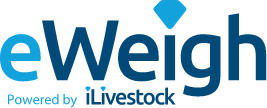 eWeigh is a fully integrated piece of hardware from iLivestock that is made in Scotland. It connects to the load bars/cells within the weigh crate and uses your phone as a dedicated weigh screen.
When paired with an EID reader it makes everything even quicker than before. As it is integrated directly into iLivestock I can add, personalise and, most importantly, analyse the information I gather. To breed better flocks essentially, with the traits that I want for my sheep. Most of the land I farm is permanent pasture that has had a lot of sheep over the years. It's not good quality grazing. Therefore, I want to breed an animal that will hold its condition and perform whilst in this system. To have my ewes rear lambs better and to get a healthier, happier and more profitable flock.
I instantly liked how eWeigh worked. The fact that weigh data goes straight into the iLivestock app, rather than having a different piece of equipment you've got to lug around and remember how to use, is a huge practical benefit.
Also because of the mobile application, there is no need to carry an EID Stick reader with me all the time. As I check the ewes in the fields, all I need to do is bring my phone and type in its management number. This is really useful, particularly at lambing time.